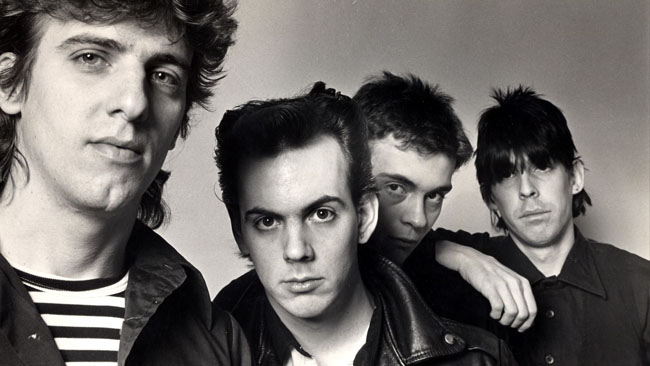 The F Models
By Marky Ray
40 years ago, Northeast Ohio lost one of its true shining lights. Singer, Songwriter and Guitarist Robert "Ig Nition" Morningstar had put together a tight, Pop Punk band (with three other local musicians) that played some of the most fun, danceable music of the early post-punk 1980s.
From 1981 to 1983 the F Models held court at various NEO venues and opened for a number of national touring acts. JB's Down, in Kent, Ohio was where the band could be found on Thursday nights playing original punk rock and 1960s garage rock classics to keep the beer flowing and the dancers moving.
The band was beloved by all who knew them. Drummer Steve McKee ran a tight ship with his deft polyrhythms that provided a solid backbeat. Sharply-dressed guitarist Bill Ferrell locked in with perpetually leather-jacketed Bassist Steve "Fender" Richter, who looped glissandos of the bass's A string. Together, they propelled the band forward with abandon. Iggy, as he was affectionally known, often held the crowd in the palm of his hand with his cutting audience barbs, his charismatic aura and wicked sense of humor. The whole band could play their asses off, and they wrote some great, timeless, classic, and funny f'ing songs.
"Nobody Loves Me (but My Mom)," "God Save Chrysler" and "Lou Grant Breakdown" were some of their wryer funny punk songs. Other more serious songs filled out their sets. Iggy's songs, such as "It's Not Right," "God Fearing Man," "Can't Relate" and "No Time For Love" reflected a more social/political stance and perspective of his worldview. Iggy was not only sweet, he was smart, well-read, and an accomplished musician and writer. He was a true bright, shining light in our music world, loved by all who knew him.
Sadly, In December of 1983, Iggy took his own life. This forever changed the landscape of the Kent, Akron, and Northeast Ohio music scenes*. His death seemingly marked the end of an era, nothing was ever the same after his passing. The F Models were no more and the silence for the next 40 years was deafening.
Over the years the band's legend grew. With the advent of the internet, more people became aware of the F Models. The calls grew louder for a compilation of the band's material. With only two long out-of-print 45 rpm singles released during their tenure, people clamored for more. Luckily, F Models fans and music lovers had some goods from back in the day. Specifically, longtime collector, musician, and archivist Jimi Imig Ohms. It's Jimi's saved, sourced, live board, rehearsal, and studio recordings culled from Jimi's collection that makes up the bulk of the sound files on their newly-released CD set. In addition, James Demain provided the entire second disc from a live show in 1982 at JB's in Kent, OH. Jimi and James also provided flyers and Michele Monet kindly donated her photos of the group.
Fast forward to today. Longtime friend and fan of the band, musicologist, and archivist Marky Ray has secured a record release from JIB Machine records in Cleveland, Ohio, who will be pressing and distributing this 2-CD set of the F Models, "In Loving Memory."
The F Models – In Loving Memory
A 2-CD Set of previously unreleased material from the beloved, Kent, Ohio Post-Punk/Pop band from 1981-1983.