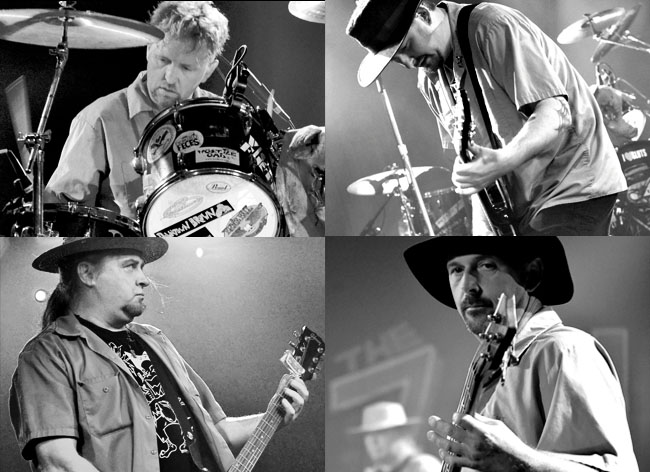 As the sun was setting on the MTV driven 80's, something strange was happening in a dimly lit, damp cellar located on the outskirts of Cleveland. The discovery of a single cassette tape (a crude homemade compilation of songs by Suicidal Tendencies, Depeche Mode, U2, Dead
Kennedys, The Smiths, Metallica…) sparked an exclusive punk scene in Ohio's underbelly. As this revolutionary moment in music reared its unexpected head, it forever altered the lives of three young boys. After acquiring some "heavily punished" second-hand instruments, a trio of
brothers (Skwid-age 16, Davey Do Right-age 14, Filth-age 12) sat down with a cassette recorder and seamlessly constructed and recorded their first song, E.S.A.D., unaware that they had just given birth to a hybrid sound they would forever refer to as "BARNCORE"!
Throughout the 90s, Hostile Omish (along with their pals the Butterchurners) toured the U.S., spreading Barncore and taking college radio by storm (over 200 rotation adds in 3 weeks!) Aggressive songwriting and grassroots marketing landed the Omish many opening slots with big-name acts like Dropkick Murphys, Agnostic Front, Dead Milkmen & Circle Jerks. As the new millennium kicked off, the band formed Hostile Omish Inc. and launched their own publishing company, Dead Eeguana Music. Soon after, they cemented their roster spot with Cleveland based Jib Machine Records, where they remain today!
Fast-forward past nine releases, five national tours, six music awards, industry showcases at SXSW, WeFEST, MRMF, CBGB & Whiskey a Go-Go, appearances on various indie film soundtracks (even a National spot on ESPN) as well as hundreds upon hundreds of live shows, and over 30 years later, the name Hostile Omish still remains synonymous with Ohio punk!